Jan 22, 2021
Introduction
Hello Everyone, I am Prakash Panta From Bharatpur Nepal. Today i will tell you about my 3rd valid bug on Facebook. Let's get started.
Explanation of Issue
I noticed that when someone's comments in the Page post admin gets notification. Once i click that notification it will redirected to the Page Post where the comments was made. I tried to reply that comment, Sadly comment was attributed as Page.
Again i logged in my another account and comment in that post and reply my own comment from another account. I quickly logged in Page Admin Account, it shows someone is replied to this comments. So i quickly tap that notification and it redirected to that comment, I replied there. Surprisingly Comment was attributed as Page Admin Personal Profile.
Once reported, they acknowledged my report,they rewarded me with bounty and finally they fix the issue.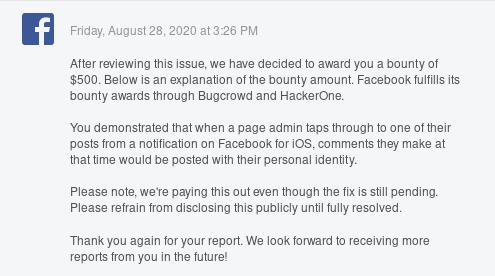 Proof of Concept
Timeline of Report
June 17, 2020: Report Sent
June 23, 2020: Not Reproduced and more info sent
June 26, 2020: Pre-Triaged
June 27, 2020: Triaged
August 28, 2020: Bounty Awarded
January 22, 2021: Confirmation of Fix and Fix Confirm from my side
Thank you for taking the time to read my article. Have a great day!
You can follow me on Facebook or Twitter if you would like to stay connected with me.
---
Tags:
bugbounty
bugbountywriteup
writeup
Facebookbugbounty
Facebook
Infosec
Facebookbug