Dec 30, 2020
Explanation of Issue
Well i was testing each and every feature of Live in Facebook for iOS,sadly i didn't get any bugs there, and I created an Event from my Page and Started LiveStream there. An unknown person comments there, so i wanted to block that person because that was my test page. Surprisingly once i clicked on Block, that person was not blocked properly and still able to comment there. I test this issue for Personal Event and Group Event LiveStream then this issue was also present there.
Proof of Concept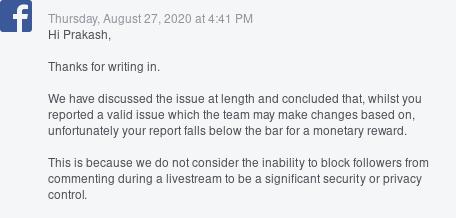 Timeline of Report
July 6, 2020: Initial Report Sent
July 9, 2020: Pre-Triaged
July 14, 2020: Triaged
July 30, 2020: Confirmation of Fix
August 27, 2020: Closed as Informative
Thank you for taking the time to read my article. Have a great day! You can follow me on Facebook or Twitter if you would like to stay connected with me.
---
Tags:
bugbounty
Infosec
Writeup
FacebookBug
FacebookBugBounty
Facebook